Dear friends,
looking back on the past months, you can definitely say: wee has been all about sports lately! What can I say? I think that's just GREAT! Not just because I have a personal fascination with sports, but because wee and sports are a perfect match!
Business and sports undeniably have a lot in common. In both cases, performance and skills are key, no doubt about it. However, in order to be truly successful you need a lot more. Passion – the inner fire that pushes you forward, even when the going gets tough.
Strength – physical and mental alike, endurance.
Team spirit – fighting together, supporting each other, sometimes losing and then – deservingly – winning.
The key to success that stands above all these factors: Motivation! One common goal, a vision we are working toward, which unites us and pushes us forward.
My philosophy here? Planning professionally, calculating carefully… As long as you do that there is no harm in making bold moves in terms of communication in order to get some media awareness. That's the reason why we dropped a real bomb at the season opening of the Tölzer Löwen on 11th August: The Tölzer Löwen are going to win the German Ice Hockey Championship 2026! This was bound to ignite some serious discussion – parts of the German ice hockey scene reacted sceptically: Megalomania? Loss of reality? Drunk? However, even more people reacted with enthusiasm!
Setting high goals and then working towards them step by step… That's just the way wee does things. I am holding on to our vision, our goal: one app, one card worldwide. For everyone. In our latest press release you can read up on how we are currently on the way to reaching exactly that. This is also thanks to our genius strategy of stadium digitalisation of weeSports & Entertainment. Make sure to also watch the trailers – I am sure you will enjoy these!
And now one last thought on the topic of climbing the ice hockey throne: Trying to tell if the Tölzer Löwen will reach the top league in 2023 and then become the German champion in 2026 is just like looking into a crystal ball. However, that doesn't change the fact that this is our 100% goal. If we only make it to 80% that's still a lot better than average!
Regardless of all this: I am so looking forward to the new season and the games at the weeArena and also at the weeEisArena in Lausitz, and in Munich, where we are a business partner of the German Hockey league top club EHC Red Bull München… And I will be watching some soccer as well: at the Tourbillon stadium of the FC Sion in the Swiss super league. And I bet there are some more stadiums to come!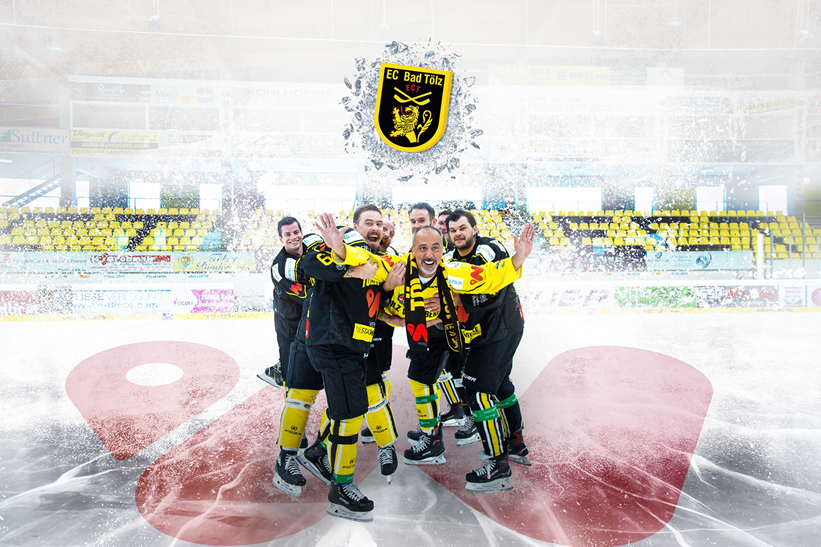 Have fun reading and watching the latest!
Power greetings,
Cengiz Ehliz
P.S.: The new team of the Tölzer Löwen just blows my mind – the guys are just really great. The photo session was super fun – I think you can tell easily from the picture. I was almost catapulted through the stadium roof!
Impressions from the season opening of the Tölzer Löwen: